The Llandaff Branch Striking Competition was held at Laleston on Saturday 11th May 2019. It was a cold but mainly bright and sunny afternoon. The draw took place at 2pm and was followed by the two stages of the competition, call changes and then method.
We were pleased to welcome as our judges Matthew and Debbie Turner who are, respectively, Association Master and Master of the Monmouth Branch.
Once the ringing was over, we retired to the community hall next to the church where there was a splendid bring and share tea. Two new members were elected from Llantwit Major - Peter Grace and Roy Walker; Yvonne John welcomed us all, thanked Hilary Evans for her organisation of the afternoon and introduced - and thanked - the judges.
Matthew thanked us for our invitation to judge and for our efforts in taking part. He made some general introductory comments, saying how nice the bells were to listen to; that a number of bands struggled with bells 2 and 3; that the bands which pushed the bells along a bit generally did better overall; and that it is a good to to use the practice time well, especially to ring more rounds in order to settle down.
The results were announced as follows :
Call Change Section:
1 South Vale 34.5 faults (Rang 5th)
2 Merthyr Practice Band 38 faults (Rang 2nd)
3 Aberavon/Baglan 52 faults (Rang 1st)
4 Cowbridge 61.5 faults (Rang 3rd)
5 Caerphilly 65.5 (Rang 4th)
Method Section:
1 Llandaff 32.5 faults (Rang 1st)
2 Cadoxton 48 faults (Rang 2nd)
3 Cardiff 52 faults (Rang 3rd)
4 Cowbridge 76 faults (Rang 4th)
Yvonne presented the trophies and certificates. South Vale, Merthyr, Llandaff and Cadoxton go forward to represent the Branch in the Inter-Branch Competitions.
Photo: Certificate presented to the South Vale Band (1st in Call Change Section)

Photo: Certificate presented to the Merthyr Practice Band (2nd in Call Change Section)

Photo: Certificate presented to the Aberavon/Baglan Band (3rd in Call Change Section)

Photo: Certificate presented to the Llandaff Band (1st in Method Section)

Photo: Certificate presented to the Cadoxton Band (2nd in Method Section)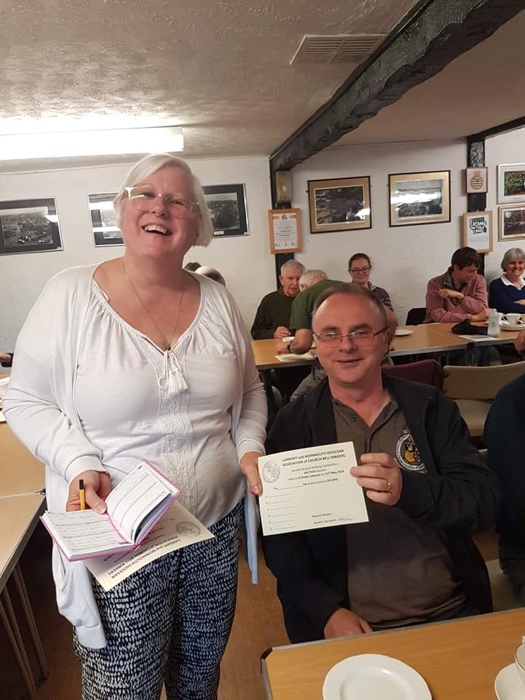 Photo: Certificate presented to the Cardiff Band (3rd in Method Section)